The China Merchandise Reserve Management Centre announced the release 10,000 tonnes of pork from the national reserves to auction them on August 21st.
Chinese Ministry of Commerce, in coordination with the National Development and Reform Commission and the Ministry of Finance, have announced several releases during the past months, including 10,000 tonnes on August 14th, 20,000 tonnes on August 7th and 17,000 tonnes on July 15th in order to increase meat supply and keep market expectations stable. In total, around 500,000 tonnes of frozen pork have been released into the market in 2020 in order to control the soaring prices caused by the ASF outbreak and other events.
This kind of actions by the Chinese authorities normally precede an expected change in the market, such as a rise in demand or a fall in supplies. Examples can be found in other releases made before periods of high demand and port logistics slowdown such as 2019 frozen pork releases before Chinese New Year, or the National Day Golden Week, and also a round of four releases of frozen pork during the first months of the COVID-19 pandemic, when supply could be compromised.
As the economy reactivates due to the control of COVID-19 in China, pork demand during the second half of the year is expected to increase considerably, which could push prices even higher, a trend that is already taking place in July, with a 14.6% increase in prices from June. With over 2 million tonnes of pork imported in the first six months of the year, these releases are a good sign for exporters about price expectations in the market during the following months. The Ministry of Commerce stated that they will continue to release frozen pork from central reserves depending on market changes.
China's pork price evolution RMB/kg (2015-2020)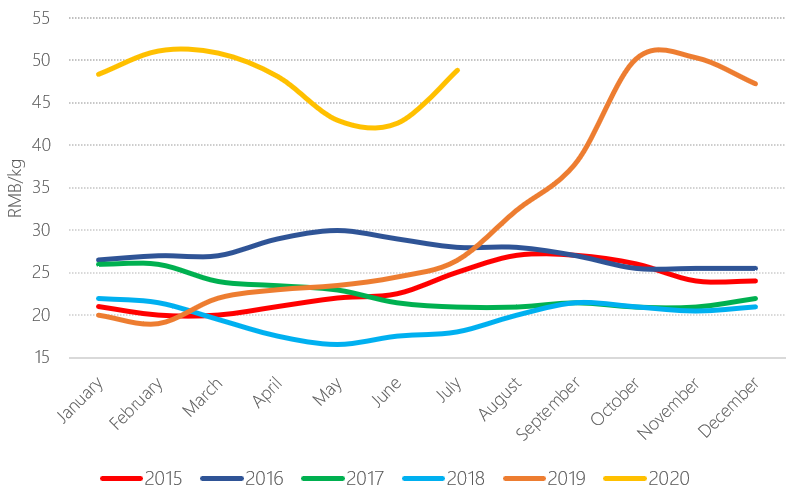 Source: Eibens with data from China Swine