According to data from the Ministry of Agriculture and Rural Affairs, by the end of October, the country's live pig population reached 387 million heads, an increase of over 20% year-on-year, recovering to 88% of the herd size at the end of 2017. The stock of capable sows reached 39.5 million at the end of October, surpassing early 2018 levels, a result of the efforts to increase the number of farms in the early months of the year.
Although capacity has recovered rapidly, output is still short of demand, and with seasonal demand increase and strict inspections for coronavirus on imported meat, hog and pork prices are still much higher than usual.
Stock of reproductive sows nationwide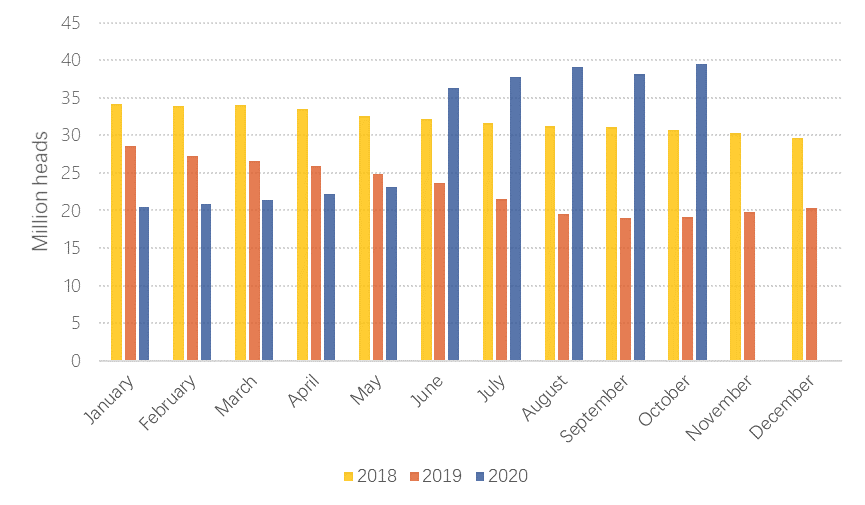 Source: Eibens with data from the Ministry of Agriculture and Rural Affairs
There were only two reported outbreaks of ASF during October, both at backyard farms that did not negatively affect the herd recovery. There have not been any registered cases in November. China has established a strict policy to avoid any new outbreak, including the rapid ban of German pork imports after cases were discovered in several wild boars in the country, and the recent restriction on live pig transportation in six different provinces in Southern China, preparing for the peak slaughtering season.
Imports have continued to soar in the last months, although at a slower pace than during the first half of the year, because of different factors, including herd recovery, lower national prices, the ban of German imports due to ASF cases and coronavirus disruptions in cold chain logistics.
Chinese pork imports (code 0203)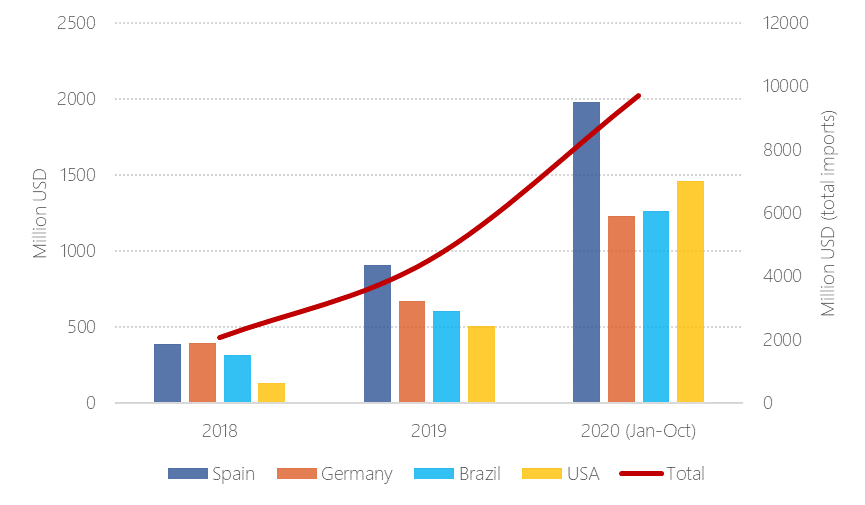 Source: Eibens with data from China's General Administration of Customs