China's third-quarter pork production surged to its highest in three years, pushing prices down during Q2 and Q3 and leading to a fall on imports after summer, especially in some cuts. Since March, China has significantly reduced its purchases of pork, especially carcasses, boneless parts, and ribs. On the other hand, imports of loins, bacon, and fats remain higher than in 2020 along with a stable demand for offal.
Evolution of wholesale pork prices in China (2016-2021)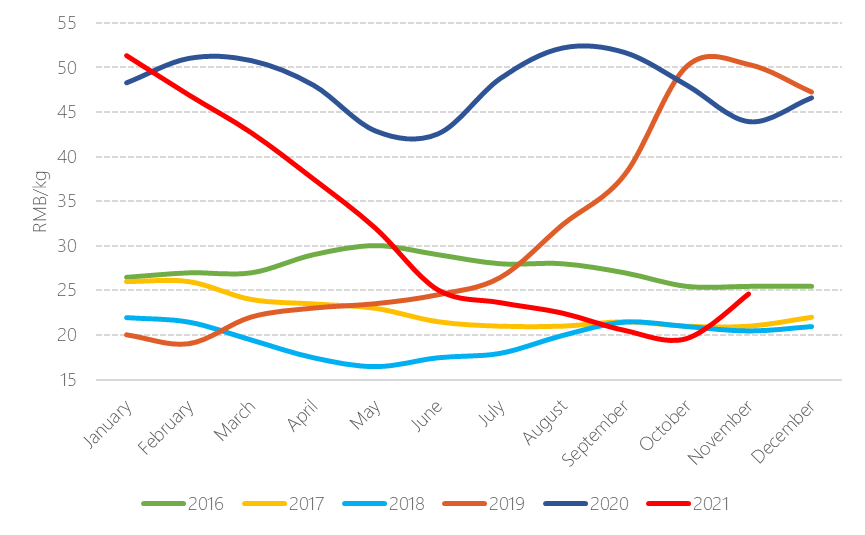 Source: Eibens with data from China Swine
Pork output for July-September was 12.02 million tonnes, up 43 percent compared with a year earlier according to data from the Bureau of Statistics, and the highest since the third quarter of 2018, before China began feeling the fallout of the swine fever epidemic.
China's pork output jumped 38 percent in the first three quarters of 2021 versus a year earlier to 39.17 million tonnes, the statistics bureau said.
The surge in pork production was led in part by the largest producers who invested billions of yuan in new farms during 2020 in a bid to grab market share in the aftermath of the swine fever epidemic, and in the other hand, by the plunge in price that prompted some producers to sell their herds and exit, while others took the opportunity to get rid of less productive sows, flooding the market with more meat in the months of weaker demand.
This surge in pork has impacted imports, with 3.34 million tonnes of meat imported from January to October, and 1.08 million tonnes of offal, valued at 11.9 billion USD jointly.
Import volumes started falling in May, with a 2.2% reduction compared to the same month of 2020, and aggravated during the following months, official data reports negative growths of YoY monthly imports on volumes of swine meat of of -13.7% in June, -18.6% in July, -20.6% in August, -44.8% in September and -41.4% in October.
Total pork meat imports (0203)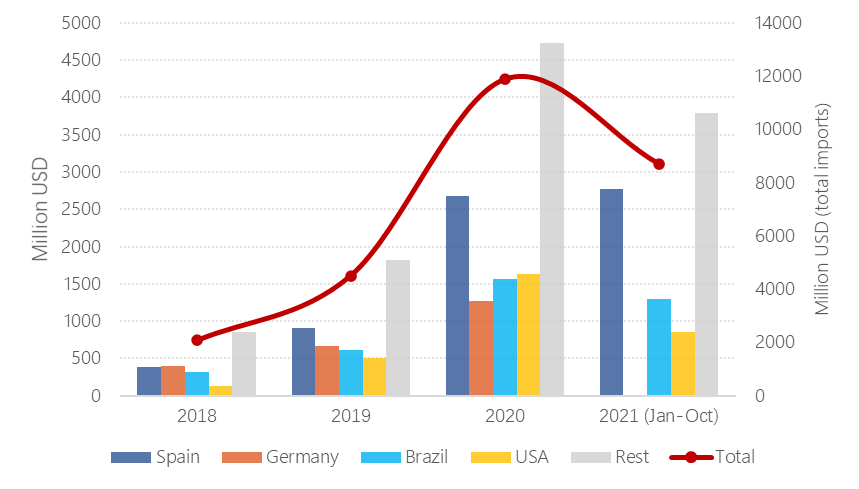 Source: Eibens with data from China's General Administration of Customs
Experts project a decrease between 5% and 20% on the amount of pork produced in China in 2022 compared to 2021 due to the sow liquidation and the paralysation of new construction projects, which could benefit exporters.