The prevailing consensus among external observers [1] suggests that China will likely need to increase its pork imports, despite the month-on-month decline. By value, swine meat imports increased by 27% from January to August compared with the same period last year.
The decrease in month-on-month imports is attributed [2] to the narrowing price gap between imported and domestic pork. However, analysts express confidence that as domestic pork prices rebound and suppliers in other countries soften their prices for exports to China, the nation will likely resume its trend of increasing swine meat imports.
The EU exports of swine meat by volume to China in the first half of 2023 experienced a drop of -12% while there was a 1% increase in value. Spain and Portugal experienced a drop in volume respectively as compared to the same period of last year of -15% (Spain) and -33% (Portugal).
The drop in volume of exports from the EU to China follows a current increase in price per kilogram. This price increase is consistent across EU swine meat exporters, with the EU experiencing a 15% price hike, while Spain saw a 13% increase and Portugal recorded a 17% rise. This resulted in a drop in volume of -27% for the exports of EU swine meat to China.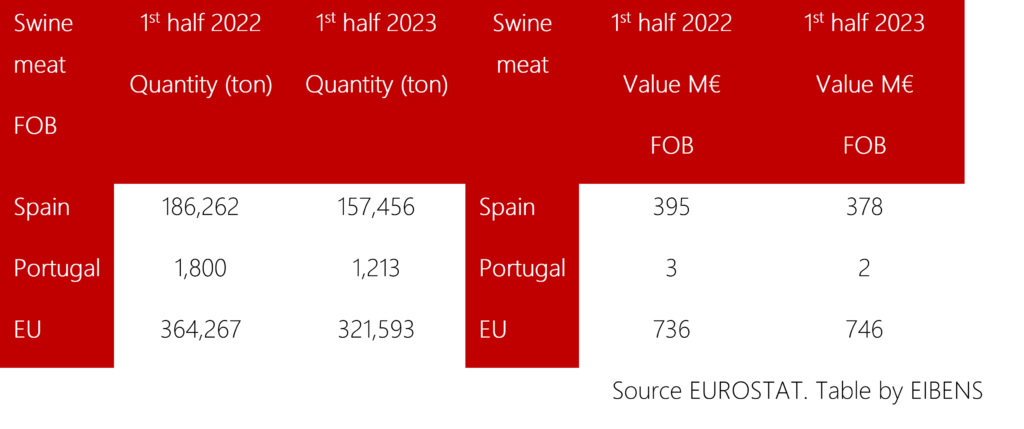 As for offal, there´s a drop of imports by volume of 3% from the EU caused by a decrease of 22% from Denmark while the rest of EU stayed flat or increased its offal exports. Regarding the two participants in the campaign, China increased its offal imports by volume from Portugal 21% while the increase from Spain was of 1%, although the latter comes from a much larger base.
[1] Genesus Global Market Report (envoke.com)
[2] Viewpoint | Hogs can still be expected in the future Market or delayed and highly restricted _ Oriental Wealth Network (eastmoney.com)