China's soymeal prices started rising from February 7th and continued increasing rapidly throughout the month and in March, almost reaching 5,000 yuan per ton (790 USD) on March 18th. On February 22nd, he National Food and Strategic Reserves Administration announced their plan to release soybeans from reserves amid worries over tight supplies in the market, but details about quantities or timing were not released, and prices continued to rise.
National soymeal prices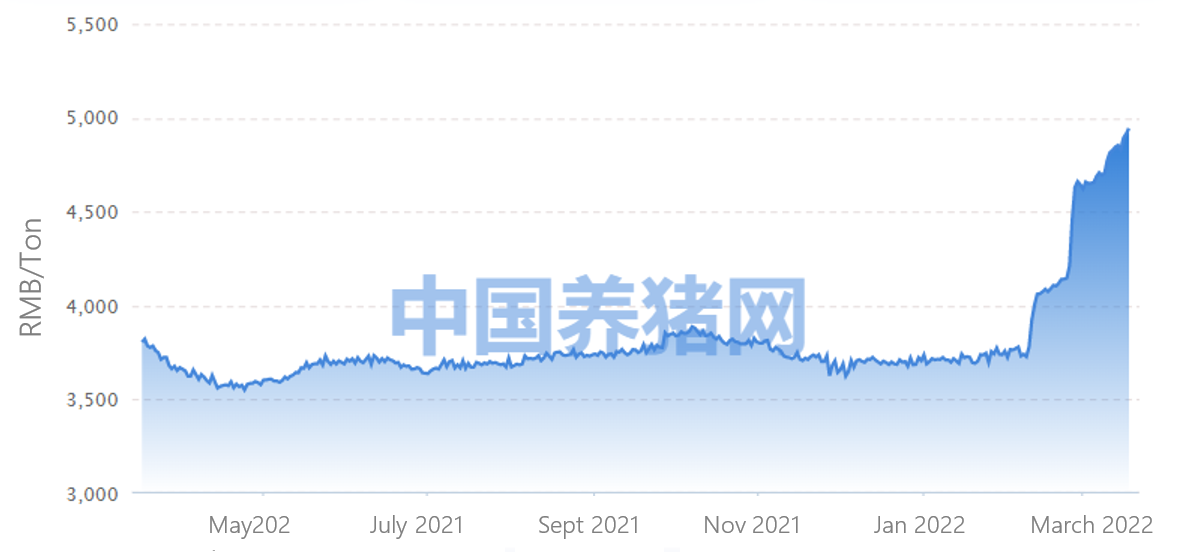 Source: https://zhujia.zhuwang.cc/
According to Zou Honglin, an analyst with the agriculture division of Mysteel, a China-based commodity consultancy, soybean crushers did not build up much inventory before Chinese New Year holiday because of poor margins and came back from the holiday to find bean arrivals from South America were insufficient to cover demand, as shipments fell short of expected volumes due to climate issues in Brazil and Argentina, where crops have been hit hard by drought conditions and thus slowing the pace of shipments.
Bean supplies were so tight that major crushing plants from the northern port of Tianjin to the southern province of Guangdong have set up plans to curb production in recent weeks, fuelling the rally in soymeal prices, according to analysts and traders.
Chinese crush margins turned negative at the end of 2021, curbing large bean purchases. Crushers still struggled to make profits as demand from the livestock sector stayed flat.
Soaring soymeal prices, the key protein in animal feed, is heavily affecting pig farmers across the country, together with volatile corn prices due to the conflict in Ukraine. This will further cut margins for pig farmers who are already suffering losses.
To cope with the high prices, some feed producers are replacing soymeal with alternative meals in the feed ration.