Hog and pork prices have suffered large fluctuations in the first 6 months of the year, reaching minimums below 12 RMB/kg (1.76 EUR) in March, before a rapid increase, more than doubling, by early July. Chinese authorities have applied different strategies to stabilise prices, both when they were low and later to contain the price hike.
National live hog prices (外三元)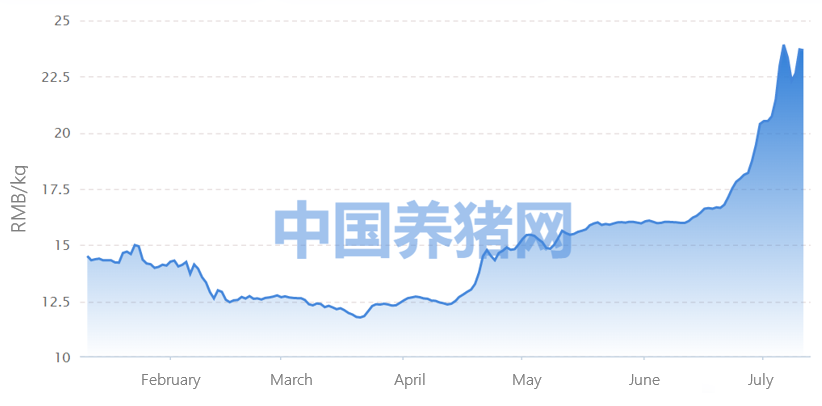 Source: https://zhujia.zhuwang.cc/
Since late February, the Chinese Commodity Reserve Management Centre has issued a total of 13 announcements to purchase pork for the national reserves, in what many see as an attempt to push prices up at a time of low demand and minimise heavy losses from companies.
Hog producers were trimming inventories with prices at a minimum and rising feed costs, tightening availability of finishing hogs. Weekly hog slaughter volumes have decreased around 15% from the same period in 2021, which pushed prices up.
After hog prices and lean hog futures started increasing in late-June, the National Development and Reform Commission of China (NDRC) held a meeting early July with leading industry associations and large pig farming companies including Muyuan, Wens, New Hope and Zhengbang, among others, to discuss average pig prices, which had increase over 15% in just a week, and 100% since March.
Meeting participants were requested to provide the reasons why pig prices went up so rapidly; prediction of pig price in the future; their business situation in Q1 and Q2; production plan in Q3 and Q4 and suggestions of how to ensure supply and stabilize the price, in an attempt to reduce speculation. Intentionally postponing selling pigs to reduce the supply in the market to raise the price has been a common practice by large producers in the industry.  The objective of the meeting was to prevent this practice, so the big farmers maintain a normal pace of pig slaughter and avoid intentional postponements.
According to the industry, the soaring price has a strong relationship with reduced supply, originating from a long period of low profits and losses which caused sow culling, as well as with high grain prices, pandemic restrictions and pig diseases.
Higher pig prices in China would benefit greatly the interest of European exporters, which have seen their business with China reduced in the recent months. However, it is important to consider the measures that authorities are taking to reduce speculation and to avoid price fluctuation, as well as the higher centralization of pig farming industry in the years following ASF, so the price increase is not expected to go as high as the previous years.