Driven by the demand of offal, exports of EU pork to Vietnam rebound in 2023 after a drop in 2022.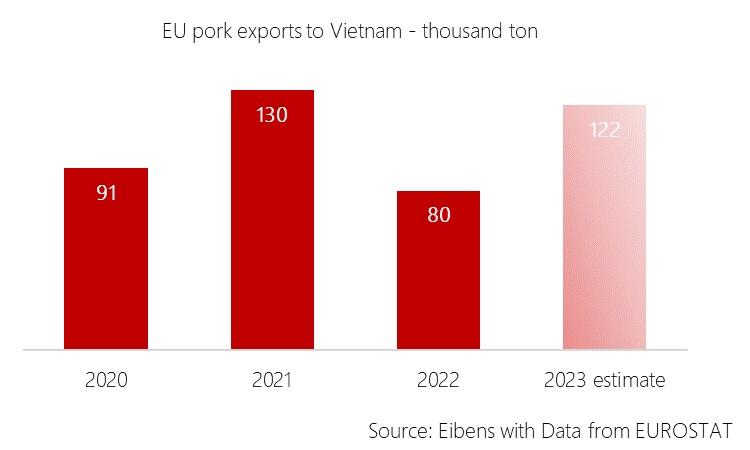 The mid to long-term outlook of Vietnam as a market of pork consumers remains very positive with estimates of an increase of per capita consumption of pork up to 31 kg in 2026, representing a 9% growth during that period. Pork makes [1] 61% of the meat consumption, while chicken accounts for 31%, and beef for 8%.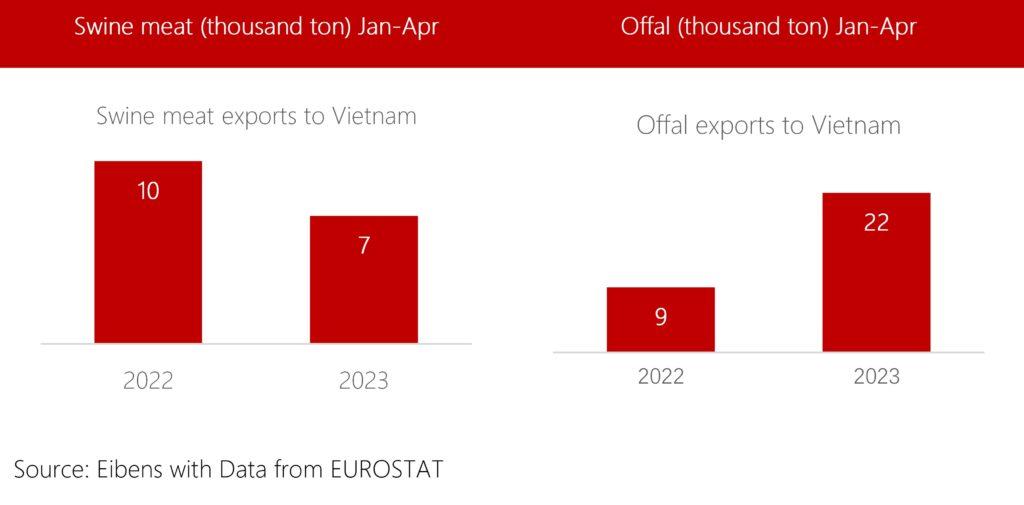 The positioning of EU suppliers is not aimed to the low-price segment, but instead [2] to service the demand for high-quality cuts that will foreseeably emerge as incomes rise. However, the transition to a moderately wealthy economy will take some years. In the meantime, the demand for imports inclines yet in 2023 towards offal rather than to more expensive pork cuts.
Exports of swine meat from EU to Vietnam experience a drop in quantity of 29%, down to 7 thousand ton from 10 thousand ton in Jan-Apr 2022. The average FOB price this year is of €1.5. This is 12% higher than during the same period last year (FOB €1.3).
In line with the previous comment, cheaper products increased its exports and surely will continue for the time being. Offal exports to Vietnam increased by 139%, up to 22 thousand ton from 9 thousand ton a year earlier. The average price of exported offal this year is of FOB €0.64/kg, substantially lower (-23%) than one year ago during the same period (FOB €0.83/kg).
As for Spain, its exports of offal to Vietnam increased in volume by 47%, up to 2,048-ton from 1,392 ton during the same period a year earlier. Regarding the swine meat, the exports increased 9%.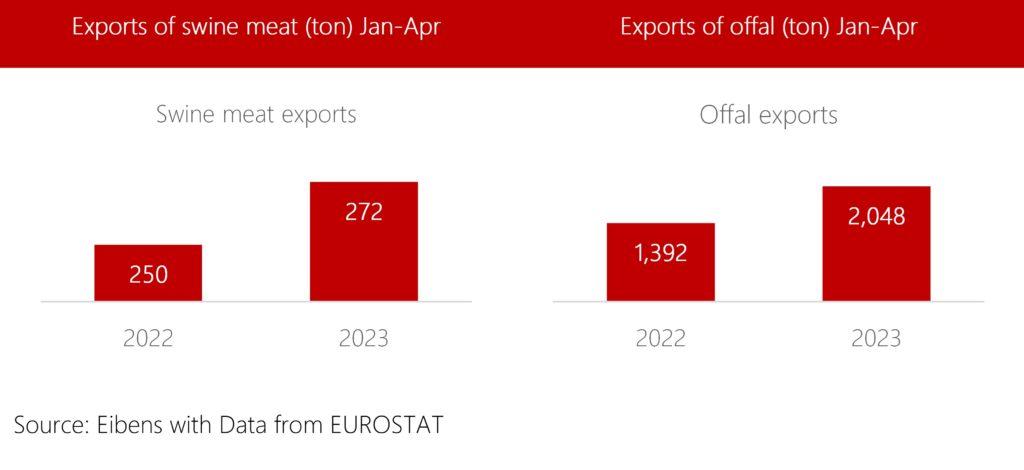 In term of value, Spain increased its offal exports over 100% compared with Jan-April 2022. The increase in value for swine meat was lower, at 23%. While the FOB price per kg of swine meat increased 13% compared with the year 2022, the price per kg of offal increased by 41%, hence the larger increase in the value of offal exports compared with volume.
The origin of the pork meat is paramount while promoting high-quality cuts. This is precisely the objective the EU PORK the Smart Choice campaign. For example, a growing interest has been detected in some of new importers to enlarge their network of suppliers from Spain, following the first campaign events in the Vietnamese market.
In August 2023, it will mark three years since the trade agreement between the European Union and Vietnam was implemented, which includes a gradual reduction in tariffs. We review the timing for dismantling the tariffs for EU pork. The table below illustrates the tariff reductions at Vietnam Customs for the three most exported pork items from the EU-27 to Vietnam.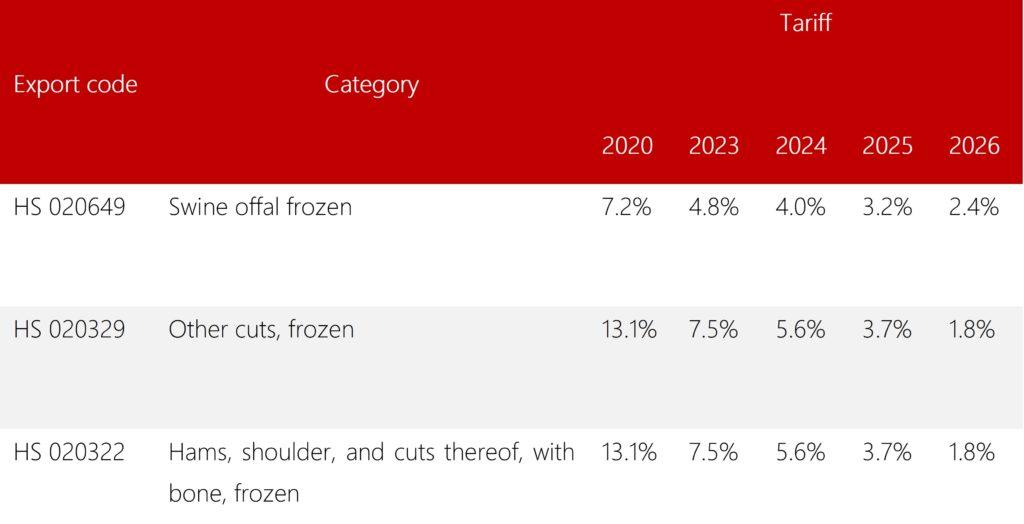 [1] Vietnam, a market with potential – News (eupork.com)
[2] Major firms spend big on pig farming – VnExpress International