Pork prices in China have experienced a plunge in the first half of 2021 to levels lower that imported pork prices, which is having an impact in the global export pork market. Wholesale national pork prices closed July at 23.69 rmb/kg (3.12 euros), down from 51.36 rmb/kg (6.76 euro/kg) at the beginning of the year, a 54% decrease.
Evolution of pork prices in China (2016-2021)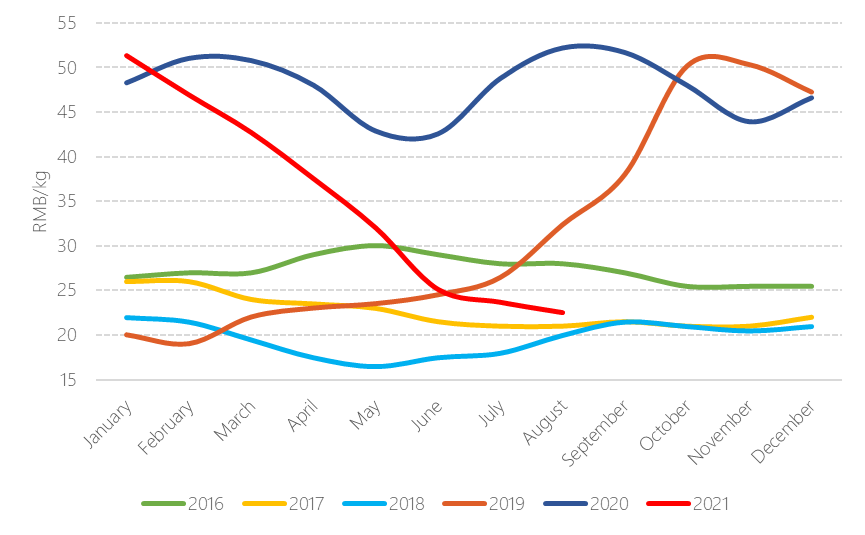 Source: Eibens with data from China Swine
There are several reasons behind the sharp price decline. In the first four months of 2021, ASF outbreaks related to the new variant as well as winter diseases led to higher herd liquidation in the affected regions for fear of infection, causing a temporary supply surge. This was followed by the slaughter of oversized hogs, as farmers abandoned the hope of a price rebound in the short term and rushed heavy hogs that they had been saving to slaughter, putting extra pressure on the supply from April to June. Disease outbreaks in the South and Southwest of China during May and June caused a new round of liquidation of pigs in affected regions, followed by further ASF cases and flooding in different areas in July.
This sudden supply increase resulted in a sharp price decline, as well as negative results for farming and trading in H1, leading to low pork imports in Q2 and Q3, which is traditionally a season with a lower demand. Meat imports have been lower for all meat types during Q2.
The increase in supply was combined with high reserves of frozen imported pork from record import levels during the first months of the year, forcing prices down.
Total pork meat imports (0203)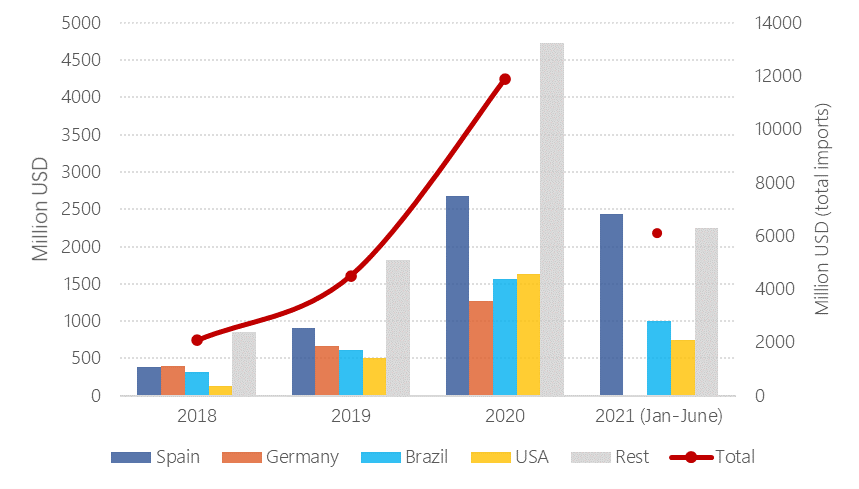 Source: Eibens with data from China's General Administration of Customs
These trends follow the traditional opportunistic business culture of the Chinese pork market, which enhance strong cycles, with prices and production coming up and down fast depending on the perceived shortages or surpluses. The domestic price strongly influences short-term strategies and these, in turn, influence domestic production and therefore future prices, with strong expanding and contracting periods and imports filling the gaps.
The expectations from experts interviewed are that prices will rise during Q3 and Q4, starting around September, but not to previous levels seen in 2020.  The current amount of pork in the market, the price difference between local and imported pork and the estimated high frozen pork inventory will slow down imports to lower amounts than those of 2020, with an estimated fall between 10% to 20% compared to 2020 levels.
In spite of this, import demand will remain strong, well above the level before 2020, as the instabilities in the live hog market and piglet restocking might cause potential gaps in pork production in the second half of 2021.