After failed attempts to stabilise the market by releasing pork reserves that began in September this year and continued during October, the National Development and Reform Commission (NDRC), the country's top economic planner, increased its coordination with large-scale pig breeders to ensure stable hog supply, as a continuing effort to cool soaring prices in the world's biggest pork market.
The companies will take the lead in ensuring supply and price stability in the market, release fattening pigs in a timely manner, and speed up the pace of slaughtering when necessary. There are currently five enterprises that represent the major hog and pork companies in the country Zhengbang Group, Wens Foodstuff Group, Muyuan Foods Co, New Hope Group, and Tech-Bank Food Co.
Top producer Muyuan Foods Co Ltd. recorded the highest revenue increase and is also known to have increased their slaughter volume, as a positive response to the government's request for aid to cool down the price increase peaking in September.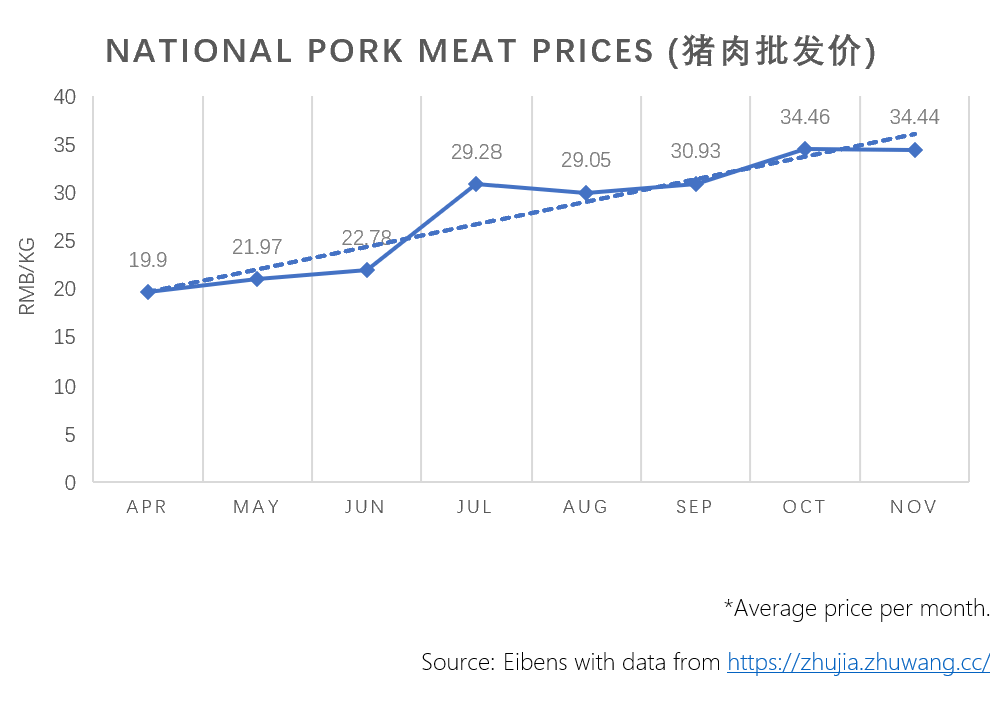 By the end of October, and after experiencing a continued increasing trend, Beijing issued several warnings to farmers urging them to stop holding back pigs from slaughter to wait for higher prices. Slaughter weights have risen to as much as 150kg, from a normal weight of between 100kg and 120kg. However, the state planner's move will only have a short-term benefit, as the fundamental issue is the tight supply.
Experts believe the sow liquidation was greater than reported, estimating the sow herd shrank by between 6 million and 8 million heads. Following this statement, the analysis given by Cofco Futures and Huachuang Securities, top risk management analysis firms in China, implies that the elimination of sow production capacity may be larger than reported, considering that if there were so many live hogs, the pork price couldn't reach this year's dramatic level.