In mid-January, a new outbreak of African swine fever (ASF) was detected in southern China Guangdong province, the first reported case of the disease in China since late October 2020. It was closely followed by two reported outbreaks in Hong Kong SAR and one in Xinjiang autonomous region. The latest outbreak was confirmed early March, found in piglets being illegally transported through Funing county in Yunnan province.
The January outbreak infected over a thousand sows on several farms owned by New Hope Liuhe, China's fourth-largest producer, and was the first one reported by one of China's biggest producers. Although Chinese authorities link these ASF cases to illegal domestic transportation of pigs, industry experts state that the virus strains found in the infected pigs could be directly linked to illegal vaccines. This assumption comes from the study of the strains, which are missing one or two key genes present in the wild African swine fever virus. Yan Zhichun, New Hope's chief science officer, stated that these modified strains do not kill pigs, but they cause a chronic disease that reduces the number of healthy piglets being born, and that infected pigs need to be culled to prevent the spread of the disease, drastically reducing swine inventory.[1]
Apart from these new strains that appear to be man-made, another natural mutation, named HuB20[2], was isolated from a pork sample from a market in Hubei province in early February. It has a partial deletion of several genes, but different from the ones found in the January outbreak, which also make this new strain less deadly, and with less severe symptoms that are not easy to detect and difficult to control, which could affect the spread of the disease.
Reported ASF cases in China (2018-2021)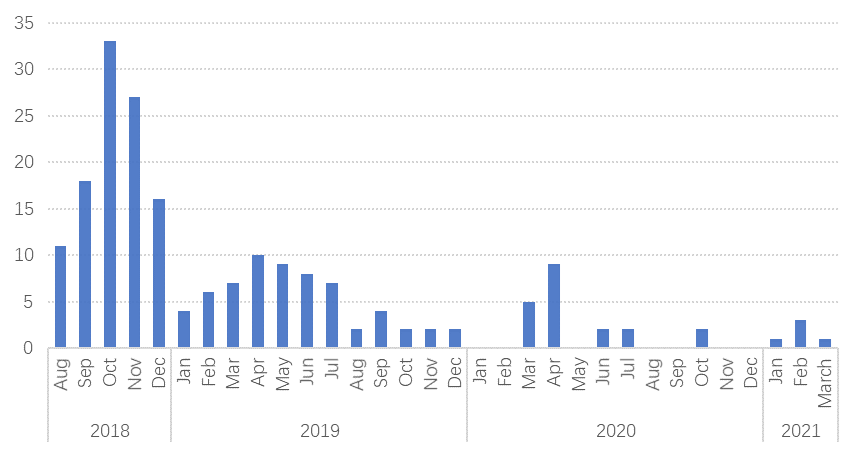 Source: Eibens with data from the OIE
Although several warnings against the use of illegal vaccines have been issued by the government and the Ministry of Agriculture and Rural Affairs declared that they would test pigs for different strains of the virus, no conclusions have been made yet on the issue.
Moreover, the winter has seen a surge in other hog disease outbreaks, including porcine epidemic diarrhea (PED) and foot-and-mouth disease, in worse outbreaks than usual.
These diseases have had an intense effect this winter, due to the characteristics of many of the farms, many newly built to recover herd numbers after ASF, and stocked with young females without immunity that can pass the viruses to piglets.
Late last year, Chinese Authorities stated that China's pig and sow herds would fully recover by the first half of 2021 and declared that in December sow herd numbers had reached more than 90% of their 2017 levels.
However, rising piglet prices during January and early February might imply otherwise. These rising prices were in part following the trend for Chinese New Year, but also due to the spread of different diseases during the winter, which suggests there was a growing shortage, which might hit pork output later in 2021.
[1] https://www.euromeatnews.com/Article-New-ASF-strains-discovered-in-China/4441
[2] http://www.fao.org/ag/againfo/programmes/en/empres/ASF/Situation_update.html