Official sources state that by the end of June, Chinese national herd is fully recovered to higher levels than end of 2017, both in terms of hogs and breeding sows. A government official declared that China's pig herd numbered 439 million head at the end of June, up 99.4% from the end-2017 level, while the sow herd of 45.64 million was up 102% from the same period.
However, there are some disparities in official data and those from experts, who estimate that although the herd numbers are indeed rising and nearing a full recovery, the real number of hogs is lower due to ASF outbreaks, floods and excess slaughter, and the breeding sows are estimated to be less productive than average.
Rising feed costs and increased costs of production, together with lower hog and pork prices have slowed down further expansion plans, with companies already slowing down or even pausing production until prices improve.
The last two years of high prices and huge profits spurred massive investments by large scale producers and outside investors into the industry. At the same time, local governments have been supporting the construction of new modernized farms within their own areas. Thus, the rapid expansion has resulted in increased production capacity and more pigs to the market.
Experts estimate that the herd is recovering, although not to official levels and pace, lowering piglet price also suggests a recovery, currently at 48 RMB/kg (6.29 EUR/kg), from an average over 100 RMB/kg (13.11 EUR/kg) during 2020 and the first quarter of 2021, and still double 2018 prices for the same month.
Reports from the USDA show that large producers have scaled back on the purchase of piglets for breeding and on the restocking of hog farms.
Piglet price (RMB/kg)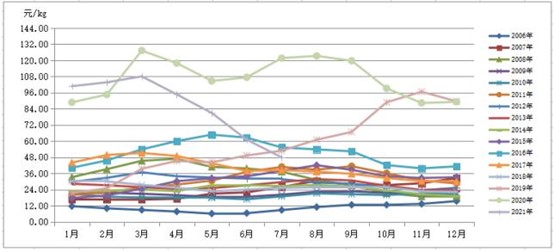 Source: Ministry of Agriculture and Rural Affairs
Earlier this month, Ministry of Agriculture officials released an announcement stating that China aims to maintain its breeding sow herd at about 43 million head from 2021 to 2025, with the minimum sow inventory always above 40 million head for that period.
The policy statement announces that authorities will advise pig farmers to restock sows or get rid of less productive ones when the monthly sow herd changes more than 5% from the previous year, in an attempt to prevent major volatility of production capacity as well as to promote healthy and sustainable development of the industry.