Although Mainland China has not reported any ASF outbreaks to the World organisation for Animal Health (WAHIS), there is a general understanding that different infections this year began to surge relatively late in the season, around the Lunar New Year holiday in January, when millions of people travelled after China had relaxed its COVID curbs and the activities.
Following this thread, the pork industry experts behind Huachuang Securities, listed two main reasons that could have triggered the disease this time:
Contaminated pork products. Around the Lunar New Year holiday in January when millions of people travel between provinces. "Data from testing companies show that positive detections exploded after the new year holiday. The order of magnitude in that period reached the level of the whole year of 2022".
Failure in biosecurity. Despite reports that producers in China have boosted their biosecurity and Chinese farms have significantly improved hygiene and procedures to reduce the impact of the virus, it still circulates, often spiking in winter.
The above-mentioned reasons match the ones numbered by the representatives of Dabeinong, a recognized pig breeding company in China: the cold weather in winter, the not thorough washing and disinfection of personnel when entering the farm and the increase in personnel mobility that has brought more risks.
To wrap up the understanding of the situation, Zhuyi, a platform specialized in the exchange of information for the pig industry, conducted a survey regarding ASF to 300 participants involved in the pork industry in different areas of the country.
The results showed that feedback in the south increased from February, but it has not been as severe as in the north. In terms of regions, the more serious impact in January and February was in the north, such as Hebei, Henan, Shandong and Shanxi. Secondly, the southern areas of Anhui and Jiangsu also have been impacted.
As for the incidence of pig farms of different sizes, it has mostly occurred in farm households, regarding scales, groups, and the pathogenic process is also relatively similar, mainly affecting sows and nurseries. In general, the survey shows that the northern region's situation is more serious, however, it does not affect the overall production capacity.
The major impact is instead shown in the national pork prices that keep falling from an average of 32.95 RMB/kg by the end of 2022 to 19.28 RMB/kg at the end of April, pressured mainly by excess supply as farmers are accelerating slaughter given the situation.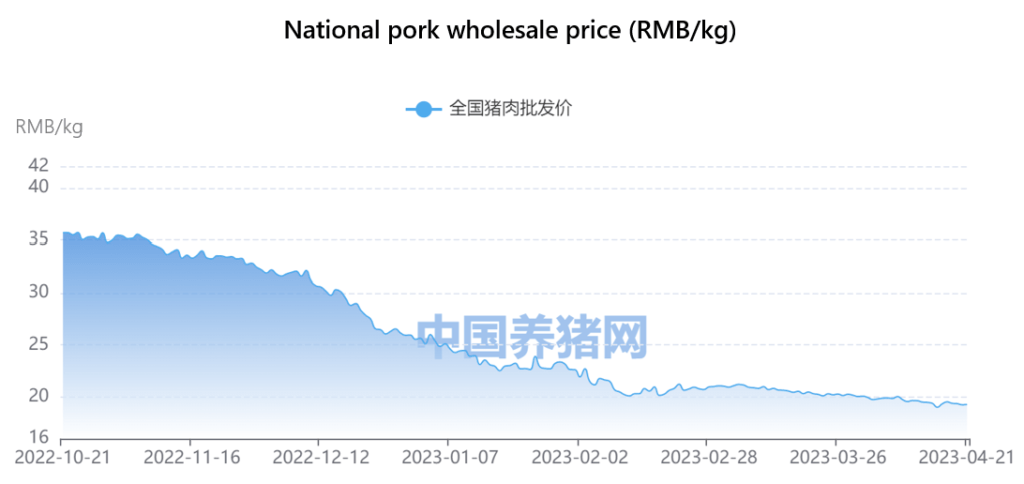 Source: https://zhujia.zhuwang.cc/