EU cured ham can be eaten in a variety of ways, from the simplest way, straight from the plate, to most elaborate recipes, cooked or directly after carving, the options are endless!
From Farm to Fork campaign has recently celebrated two ham carving training events, in which attendees learnt in depth how to carve the ham as well as how to eat it. These events included a theory session, a carving session for all attendees to learn hands-on how to carve, carving competitions, and a cooking demonstration using ham as the main ingredient. For those who could not attend the event, continue reading this post to learn a bit more about ham and how to cook it, using the same recipes as professionals chefs.
On June 17th in Beijing, Waldorf Astoria's Executive Chef Simon Song designed three different dishes as well as tapas in which ham combines perfectly with the rest of ingredients. Take a look and get ready to prepare them at home, using high quality and safe EU ham!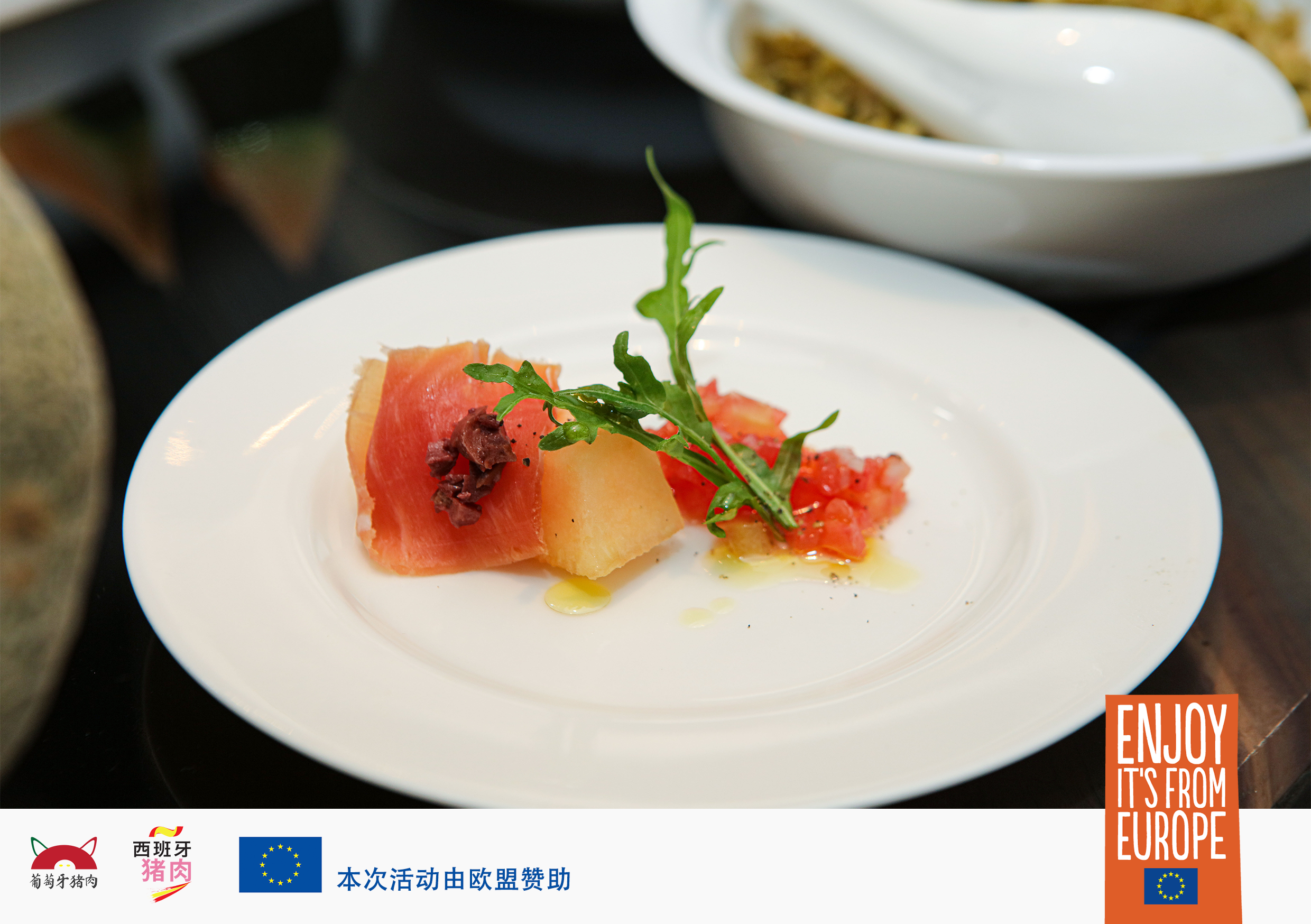 The first "tapas" dish offered at the event is EU cured ham with melon. The perfect summer combination! The sweetness of the melon matches the savoury ham, highlighting all its flavour. This dish can be easily made at home with freshly cut melon and sliced ham, make sure you try in in a warm summer day.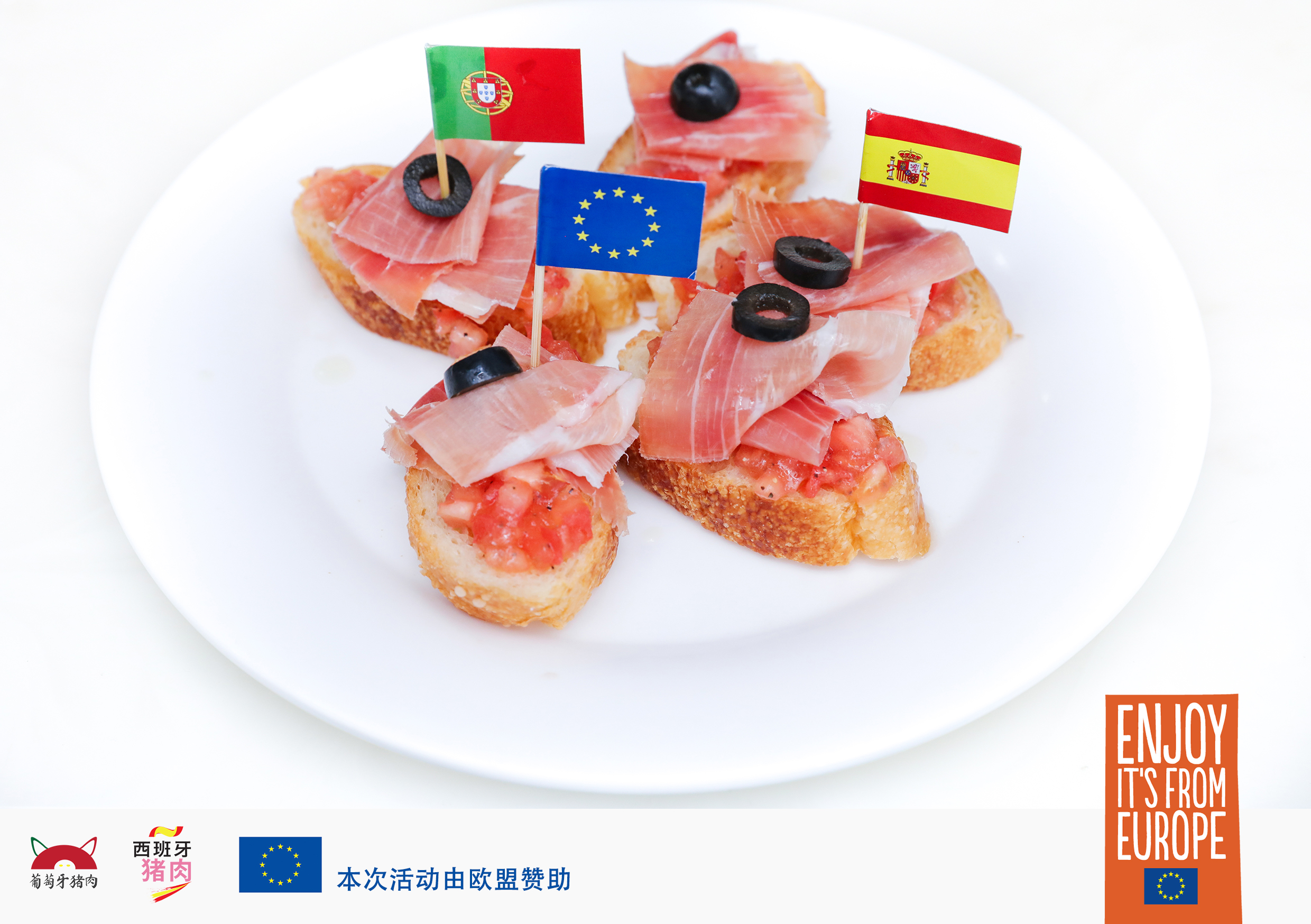 One of the most traditional ways to eat the ham is with some bread and tomato, and also quick and easy to make! Thinly dice the tomatoes, add olive oil and a bit of salt and pepper, place  it on toasted bread with the ham on top and you are good to go!
Not everything are simple cold dishes, ham can also be eaten in salads, soups, and more complex elaborations, here are some more ideas from our event in Beijing: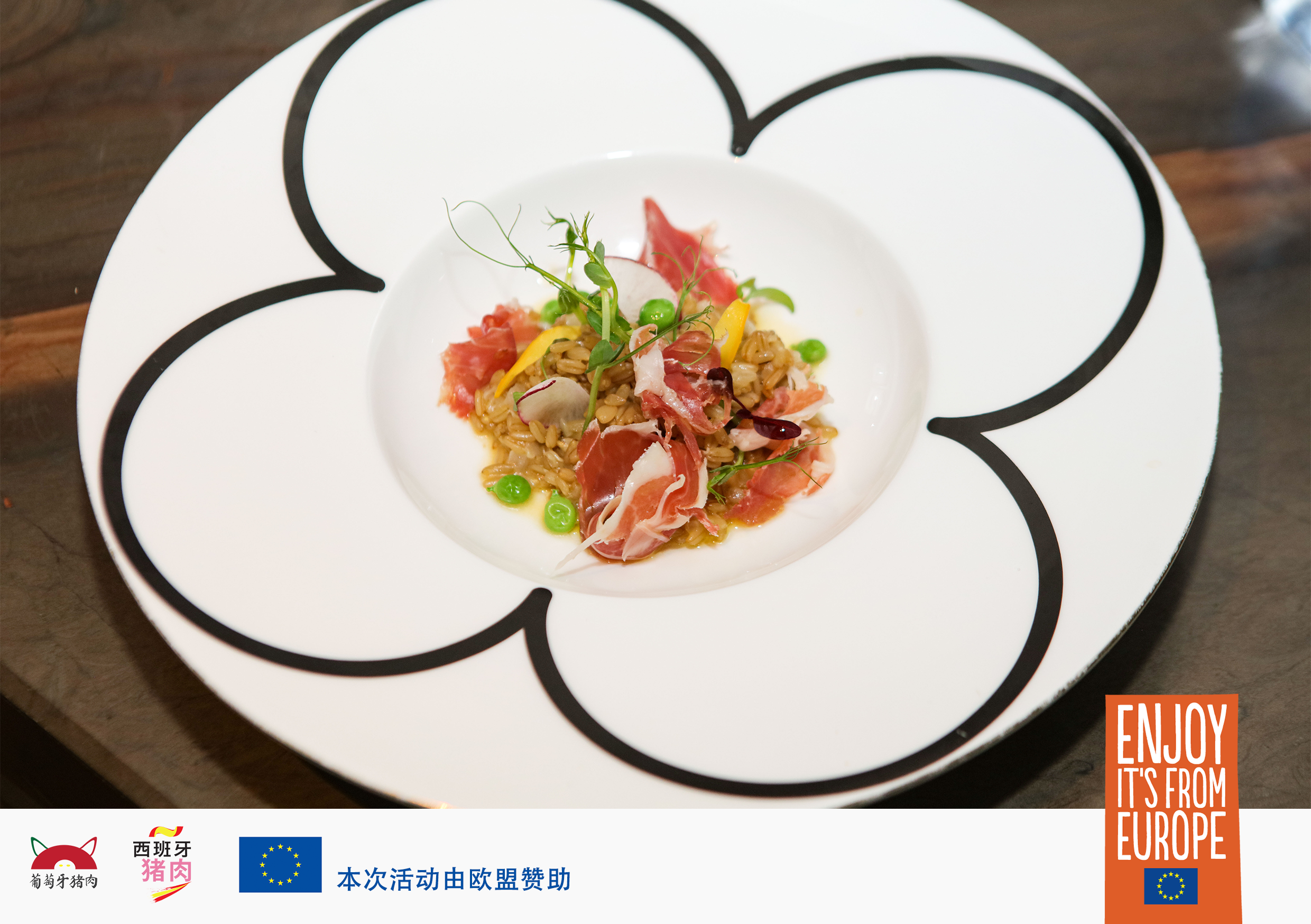 Sauteéd serrano ham with sweet peas, oat rice and microgreens. This warm dish is the perfect dinner combination, including all the benefits of the ham, as well as some cereals and greens.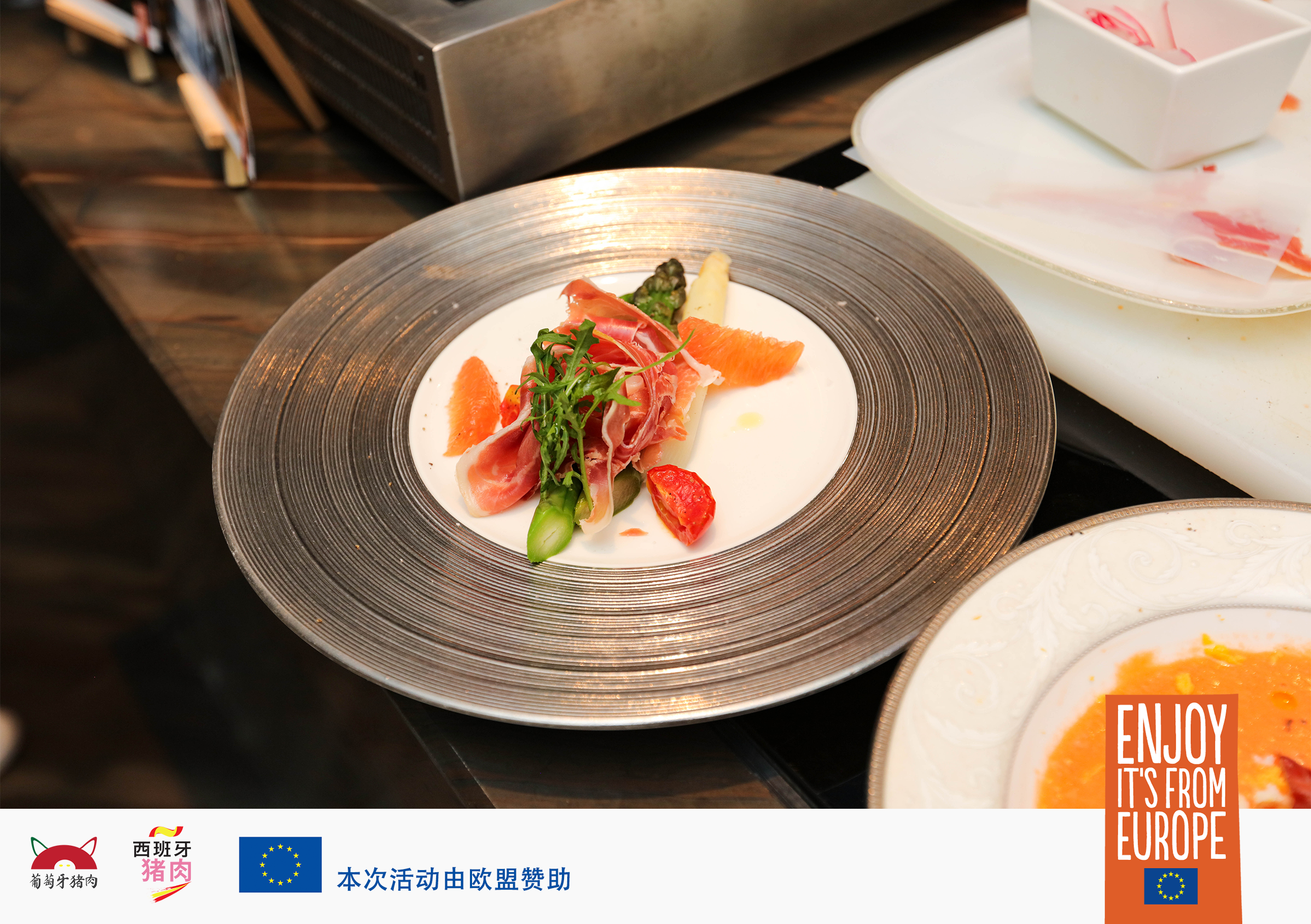 Asparagus and ham salad. If you want something light and fresh, make sure you try this asparagus and ham salad using with arugula and cherry tomatoes, garnished with olive oil and some pepper.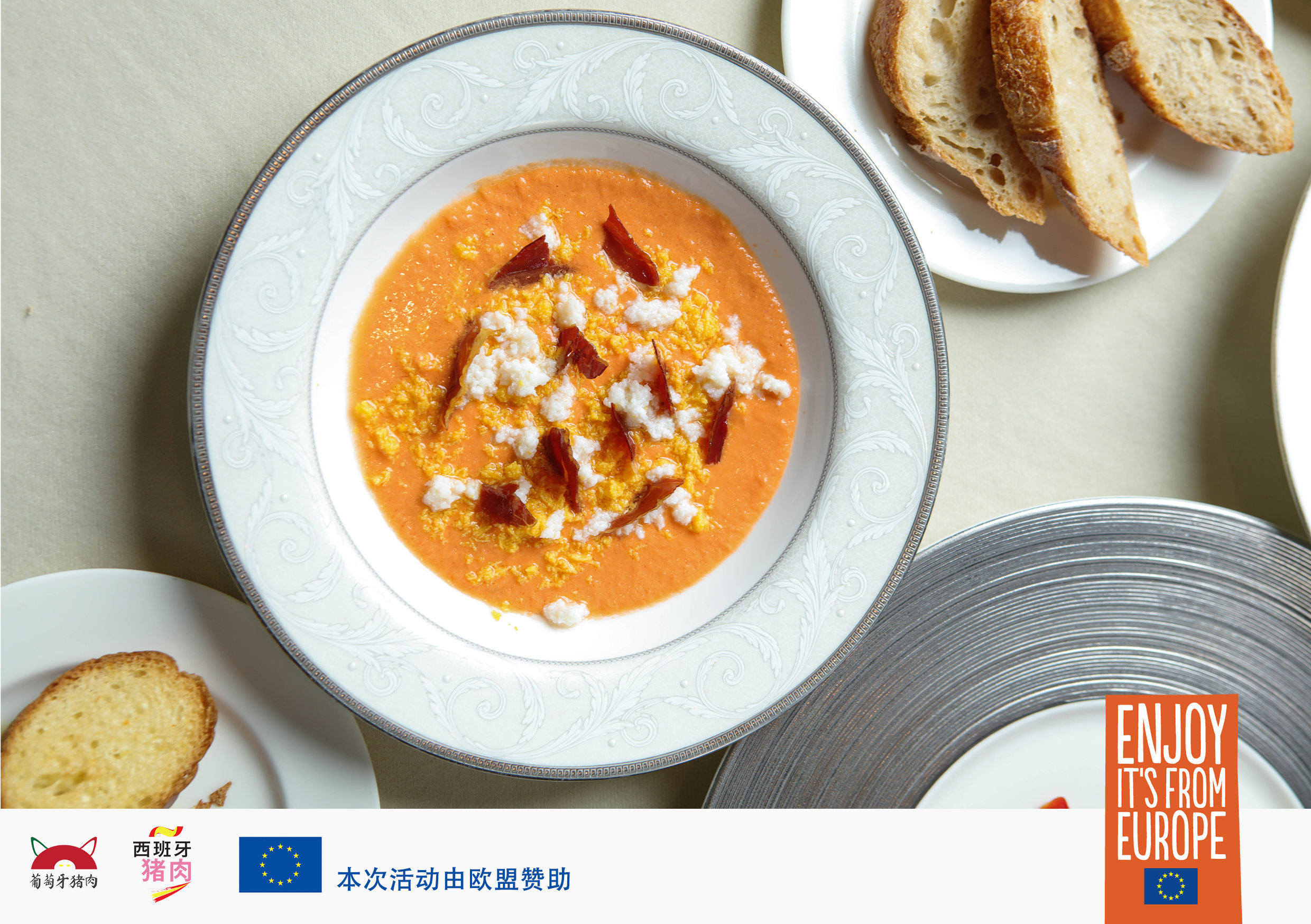 Last but not least, enjoy a traditional cold soup from Spain, "salmorejo". This delicious dish is usually eaten in summer, and it easily made at home with a few simple ingredients. The soup has tomatoes, garlic, bread and olive oil, combined in a food processor, and uses boiled egg and crunchy serrano ham as garnish to add flavour.
Curious about how these dishes taste? Make sure to prepare them at home or follow us on social media to be able to attend our future events featuring EU pork and ham, where you will be able to learn more about the From Farm to Fork campaign, the characteristics of EU pork, and taste delicious recipes!