Pig prices in China have resumed their upward trend that began last July, resulting in at least 10 months of decreased production capacity. The cost of pork in China recorded the highest month-on-month increase of the year, growing 25.6% in July, followed by an average price rise of 22.5% in August. At the beginning of July, the average price of live pigs rose to a high point of the year, and farmers gradually entered a stage of profitability. Entering July and August, the steady growth of pig prices fell due to official regulation, meaning that authorities buy pork when prices are too low to help farmers and unleash their reserves when prices are too high, as they have been doing during the month of September.
This recent rise in price was attributed to a high demand for pork influenced by the Chinese holiday season as families and friends gather to enjoy meals together. It is expected for the price to rise higher due to the mid-autumn festival and China's National Day on October 1. As such, the Chinese authorities needed to dip into their frozen reserves of pork to ensure an ample supply of the meat. The country's reserve is maintained as part of a vital stabilization policy, especially considering the perspective of demand, the cooler weather, and pork consumption gradually picking up.
The authorities are optimistic as they trust the price of pigs will remain stable in the fourth quarter, and there are signs of a secondary fattening in the market. The reluctance to sell has always existed and the supply of live pigs will not be too loose. Judging from the current production capacity, the supply of live pigs in the fourth quarter is guaranteed.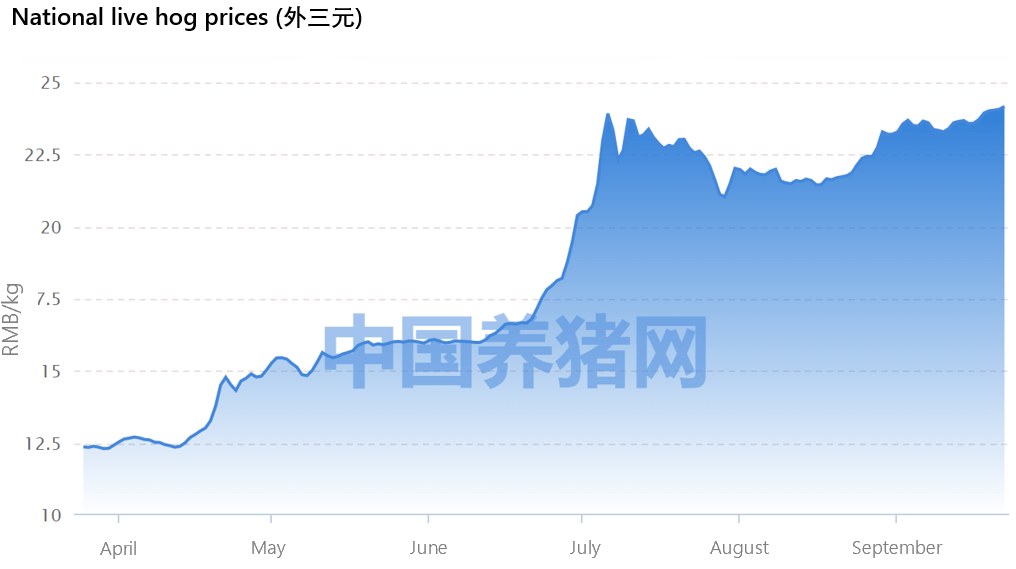 Source: https://zhujia.zhuwang.cc/
Chinese pork consumption, while considerably high, has suffered some setbacks in recent years, the current level of pig farming profitability cannot make up for last year's losses, moreover, raising pigs is now more expensive due to increasing costs. In addition, before June 2022, the national pig market lost what could be a whole year of profit given the lower prices in this period. Therefore, although the current profit level seems to be high, it is still unable to make up for all the losses of last year, so farmers hope that the current profit level can continue for a while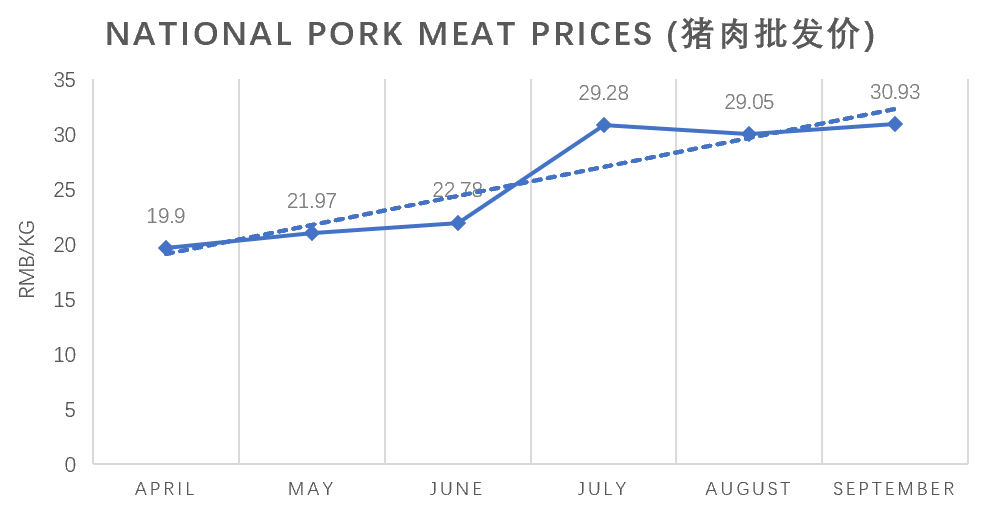 *Average price per month.
Source: Eibens with data from https://zhujia.zhuwang.cc/