Producers are concerned about water shortages and power rationing in Sichuan, Chongqing, and other regions such as Jiangsu and Shanghai. Many provinces and cities have been facing water and power shortages. Some livestock in affected areas has been temporarily moved elsewhere. The Finance Ministry promised a disaster relief fund of 300 million yuan ($44.30 million).
For more than two months, high temperatures threatened livestock and forced industries in the hydropower-dependent regions of the southwest to shut down to ensure homes have an electricity supply.
The lack of rainfall has led to drought, affecting crops in the field and the supply of corn and other feed ingredients. Faced with water and feed shortages, many producers are accelerating the marketing of their pigs, despite the approaching peak season for demand and the knowledge that profits will be higher after the price increases further. The pace of slaughter in Sichuan is reported to be 10%-20% faster than normal.
Pig farms were advised to sell hogs at a normal pace and related enterprises were required to release commercial pork reserves in an orderly manner to increase market supply.
The combination of increasing demand and tightening supplies is expected to keep prices up through the fourth quarter and the first half of 2023. It is predicted that slaughter pig prices will reach 25 RMB/kg (3.62USD/kg.) by the end of this year.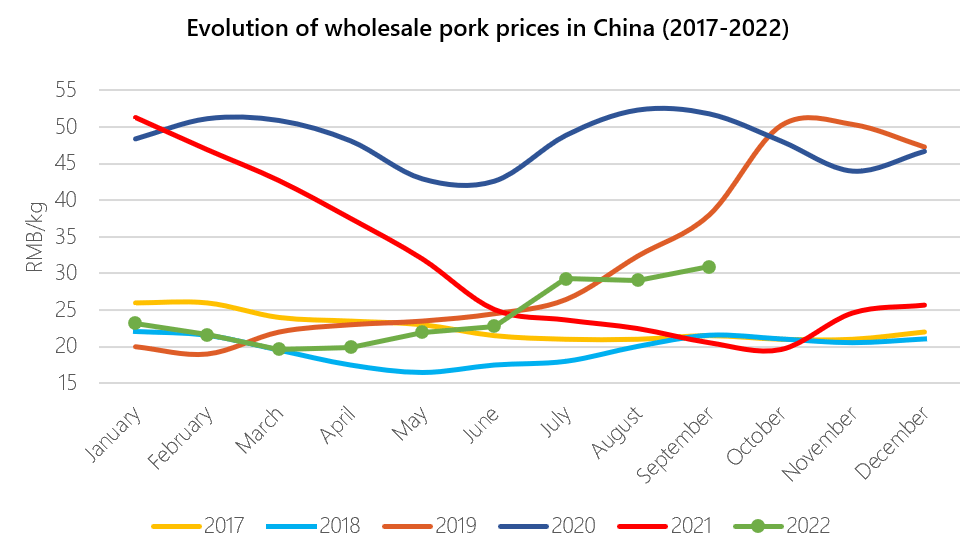 Source: Eibens with data from China Swine
This recent rapid rise in domestic pig prices has attracted the attention of the National Development and Reform Commission (NDRC), which announced on August 29 the release of government pork reserves beginning in September to ensure stable pork supplies. The first batch was released on September 8, the second batch on September 18, and the third release of pork reserves this year are expected to come as scheduled, which will further ease the pressure on the pork market supply. At the same time, low-priced pork reserves still have a certain impact on the high-priced fresh food market.
The NDRC signaled to the market that excessive pork price fluctuations will be controlled by China's planning and regulatory bodies. For this reason, producers will moderate their expectations for profits and the supply of piglets and sows will respond gradually to price changes. These operations are better able to manage fluctuations in feed costs and must continue to recoup investments made in 2020 and 2021.